Its January 2013's First Monday! What are you reading?
I'm reading my first selection
in the Reading Scotland Challenge 2013
which I'm hosting now thru November..
You
are cordially invited to participate!
Scroll down for the posted details...
My first book choice is one of Scottish author Rosamunde Pilcher's
short story collections,
"Flowers in the Rain & Other Stories"
George MacDonald series [many available as free ebook downloads]
Liz Curtis Higgs' "Mine is the Night",
Jennifer Hudson Taylor's "Highland Sanctuary"
to start off!
How about your own reading choices on this 1st Monday?
Looking forward to hearing from you ~
Especially looking forward to hearing your response
to the Reading Scotland Challenge !
EnJoy your reading time this week ...
More Monday Inspy here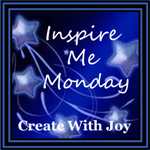 tw
eet