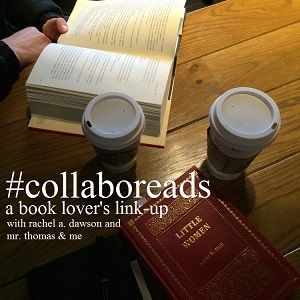 In the interests of Summer Reading resources, here's a tempting summer option.
[click either host for full deets]
They're ready for a June start.
From Rachel......

How it's going to look:
Rachel and Amber will pick a random criteria for your book.



Here's the JUNE book prompt:

You find your book.

[local used bookstore, Barnes & Noble, Amazon, the library, ordered from Book Depository [R sidebar=Free delivery] whatever works for you]

Read. [You'll have 1 month per book.]
At the end of the month we'll review(ish) our books. [With unique book aspects as posted at Amber and Rachel's who will both have places for readers to share book links in their posts.] Linking to wherever and however works for you - vlog, goodreads, blog, twitter, fb, instagram, pinterest, etc. using #collaboreads hashtag
Repeat steps 1 - 4 each month.

~
My choice from the NYT Bestsellers list ?
The Invention of Wings by Sue Monk Kidd or..
The Nightingale

by Kristin Higgins
*
A
Free
download copy available at
goodreads HERE
Picked up the audio from my local library and it's still awaiting time in my schedule!
~
~
And really liking the host R.E.A.D.S. review suggestions...
riveting, elements, associations, design, and stars
Check Rachel or Amber's blog for explanations .
~
Checked more NYT categories for bestsellers and chose an entirely different book!
In fact, my library had it available as an audiobook download right from home,
which fit my time limitations, interest and listening availability perfectly.
~
#6 on the Religion, Spirituality and Faith Bestseller List for June 20th
~
Got it? Let's go.
Grab your choice of NYT bestseller and meet up Monday, June 29th
with your review !
>>My JUNE #COLLABOREADS Review POSTED HERE<<
~*~
Will love to hear from you if you're joining #collaboreads
[check for #collaboreads tweets to find updates]
1 book. 1 month. Your Choice. Repeat.
~*~
Shared With - * Small Victories Sunday * Book Nook * Literacy Musing Mondays *
* Inspire Me Monday * Thursday Favorite Things *
~*~
FIND MORE FHC on BOOK DEPOSITORY | PINTEREST | TWITTER | GOOGLE+ | GOODREADS | FACEBOOK | NETWORKED BLOGS | LIBRARYTHING
Tweet